Discord has some really nice advantages over email:
It's instantaneous
It has easy text formatting and code highlighting
You can share your screen if you want to show me something
We can voice chat
Use your computer
Asking programming questions on your phone is not easy. If you're at your computer, either log in to discord.gg or download the Discord program for your operating system.
Formatting text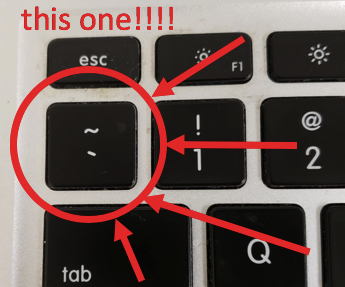 Below, the ` character is not a single quote. It's called a backtick, and it's this key to the left of 1, above tab.
When you're typing, you can use Markdown to add text formatting.
Here is a link to Discord's documentation on Markdown. But the basics:
| Type this… | …to get this |
| --- | --- |
| *interesting* or _interesting_ | interesting |
| **wow!!** | wow!! |
| `monospace` | monospace |
| ~~ignore me~~ | ignore me |
| ||snape kills dumbledore|| | spoiler! |
Formatting code
When sending code, do not surround it with single backticks. Use triple backticks instead. (Discord is smart and will switch into a mode where you can hit enter to type newlines in the text box.)
You can put the name of the language after the opening ```. No space between the ``` and the language name. For example, if I type:
main:
    li a0, 12345
    li v0, 1
    syscall

It will show up like:
main:
    

li

 

a0

,

 

12345


    

li

 

v0

,

 

1


    

syscall



This works for ```java, ```c, ```mips, ```python and many others.
But you need a newline after the ``` line. If not, it'll do this:
    li a0, 12345
    li v0, 1
    syscall

this will show up like:
mips main:
    li a0, 12345
    li v0, 1
    syscall

Do NOT take screenshots with your phone
Please, please, please don't do it. Learn to do it on your computer:
Sending files
If I ask you to DM me your code or whatever, open a DM with me, and just drag the file into the window.
---
About my server
Ground rules:
The behavior rules set out in my class syllabus apply here.

Don't be an edgelord.
Don't be an asshole.
Don't double down when you are called out. Apologize, reflect, and improve.

Nothing NSFW. No nudity, gore, etc.

You may be asked to change your avatar or username for the server if they are inappropriate.

No pepes/groypers.

If you're not aware, pepe the frog has been appropriated as a mascot for… bad things.
If you enjoy those things, please leave. Like, drop my class. I'm not kidding! Go!

Sometimes discussion can take a serious turn.

It's okay as long as everyone (myself included!!) stays respectful.
But if you think it's getting out of hand, let me know.
If you see 💾🐴 that means "discourse" (disk-horse)

It means "this is probably getting too serious, let's stop talking"
it's a reference to the long-gone #discourse channel which was a terrible mistake
The channels:
#welcome: where you are placed when you first sign up. say !id and the bot will DM you.
#cs0447, #cs0449 etc. discussion for students in that class, about that class.
#valhalla: only people who have survived a term with me can see this one ;o
#geggneral: general chat. if it doesn't fit into any of the special channels below, it goes here.
#programming: non-school-related programming discussion/questions
#school: anything relating to school (other classes, enrollment, questions for other people etc.)
#memes: haha funny joek (but remember the rules)
#egg: 🥚
#pets: pics and vids of your own pets (try not to just post internet pics please)
#music: music!
#games: video games! and sports? maybe? hasn't been much sports discussion.
#planes: some people are really into airplanes.